Principal's Desk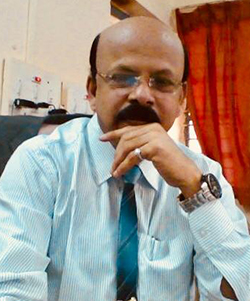 "The will to win is important, but the will to prepare is vital"
I have immense pleasure in welcoming you to KUMADVATHI RESIDENTIAL CENTRAL SCHOOL, SHIKARIPURA.
Every Student is unique and bundle of hidden talents. In order to unravel and nurture their hidden surprises and arouse their self confidence, students should be provided ample opportunities to explore, experiment, comprehend and analyze the teachings in a delight manner.
The faculty at KRCS is carefully chosen from top-of-line teachers having the aptitude and experience to teach children. They are dynamic and enthusiastic with an ability to create a responsive atmosphere in which students can express themselves and learn. They are highly dedicated professional team, with a passion to teach and caring genuinely for each and every student.
KRCS as a team has proven record of 100% results in academics since inception. Documentation of talents & prudence and giving a reward is the tradition of KRCS.
We look forward to working with you as parterres in your ward's education.
With warm regards
Dr. K S Dattatri
( M.A. M.Com, MBA, B.Ed. Ph.D.(D.Lit))
Principal